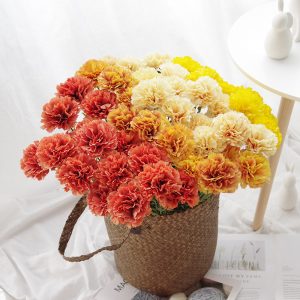 Artificial flowers that are like spring all year round allow you to spend spring in different seasons
Artificial flowers will never fade. You can arrange your favorite scenes according to your preferences. You don't have to take care of real flowers every day. If you are a busy person, it will save you a lot of precious things. time. Artificial flowers are not only the advantage of this one, let us see what other advantages are below!
1. The flower color is gorgeous, the shape is unique, dignified and elegant, and it is stored for a long time, and it blooms like spring in all seasons;
2. The cost price is far lower than that of flowers, and the market has a large profit margin;
3. There are many varieties, and there will be no shortage of goods due to the change of seasons;
4. Flower lovers who are allergic to pollen can enjoy it with confidence;
5. While getting leisure and entertainment, craft lovers also get a favorite gift and enjoyment of beauty;
6. Gifting works to friends is a rare personalized gift, and it fills oneself with the sense of accomplishment of the work. As the flowers bloom for as long as ten and a half months, or as few as two days or three days, the faintness of flowers fades in a blink of an eye, which can only become an instant memory, and maintenance and cleaning are troublesome. The appearance and application of artificial flowers have met people's requirements for the timeliness of flower viewing and prolonged the life of flower works.