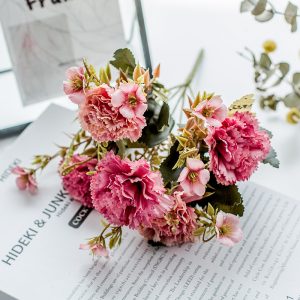 With the improvement of people's living standards, artificial flowers have quietly emerged. Nowadays, whether it is hotels, specialty stores, or florists, there are shadows of artificial flowers everywhere, and artificial flowers are so popular that it is also divided into many advantages of its own. Not open, the following Dongguan artificial flower manufacturer introduces this knowledge to everyone, I hope it will be helpful to you.
 1. The artificial flower has the characteristics of strong plasticity, so now the artificial flower can perfectly present the flower arrangement art.
  Second, it is less affected by the environment. We can choose our favorite flower materials to create at any time, regardless of temperature, humidity, seasons, etc.
3. Easy to maintain, the branches and leaves of artificial flowers are not moldy, rot, do not need to be watered, and do not breed mosquitoes and flies; artificial flowers and plants do not need to be cultivated manually, which saves watering, pruning, smelting and other troubles; artificial flowers do not need to be photosynthesized It is effective, and there is no side effect of children accidentally eating and hurting others. This is very suitable for families with children and elderly people at home and husbands and wives are working.
   Fourth, the price of most artificial flowers and plants is not high, and some are much lower than real flowers and grass. It is convenient to transport and easy to carry: when you need to change the design, you can re-assemble and match to change different atmospheres. It is suitable for beautifying the environment of mass families, and it is enduring for a long time.
  5. For human health, many people are allergic to pollen, and even more pollen poisoning occurs. Artificial flowers avoid this problem. This is one of the reasons why many people choose artificial flowers.