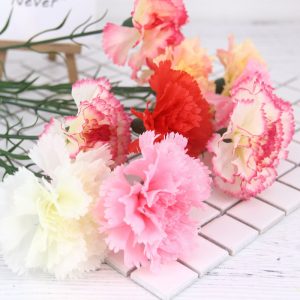 Artificial flowers are now very popular and best-selling ornaments in many homes and businesses. Then with the continuous improvement of living standards and craftsmanship, the artificial flower market continues to grow. Many manufacturers have reduced sales due to the material problem of artificial flowers. Today I will sort out this problem for everyone and summarize what materials need to be prepared for artificial flower production. ?
As the name suggests, artificial flowers are also known as artificial flowers. Generally, stretched silk, crepe paper, polyester, plastic, crystal, etc. are used. Today's artificial flower craftsmanship has been greatly improved, and artificial flowers can be faked. The raw materials of artificial flowers mainly include: plastic products, silk products, polyester products, and materials made from resin clay. In addition, metal rods, glass tubes, blown paper, fiber silk, decorative paper, and ribbons are used. No pollution or little pollution.
The general artificial flower material uses PU, PE, silk cloth. The pu artificial flower is made of pu material. When it comes to pu material, we know that pu leather, also known as artificial leather, is actually a kind of polyurethane, which can simulate the surface of many different materials. It has a soft texture and a delicate touch, which is very good. Leather instead of material. It is naturally vivid when applied to artificial flowers. PE is polyethylene. A chemical material does not have the effect of regeneration and recycling. PE has no taste. Many plastic products in life are PE, and PE material is used to reduce the stimulation of chemicals to the human body. The silk cloth used for high-quality artificial flowers is made of environmentally friendly materials and has no peculiar smell, while inferior artificial flowers smell scent or pungent. Most of them use synthetic chemical raw materials.