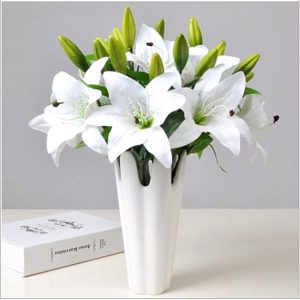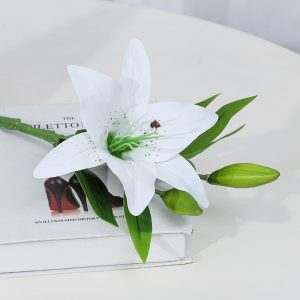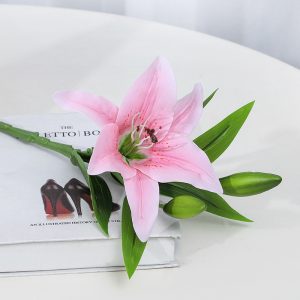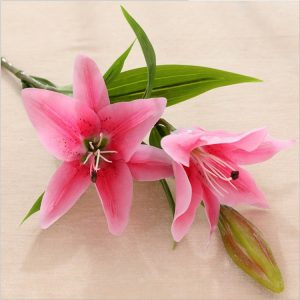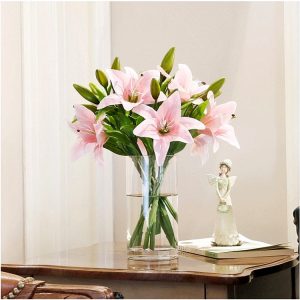 | | |
| --- | --- |
| Product Name: | Top Grade Artificial Lily Flower |
| Size(cm): | The pruning length of short stem is 37CM, the diameter of flower head is about 14CM, one flower and 2 buds are about 25 grams each |
| Carton Size(cm): | 49*33*35cm |
| Packing: | Carton with 6 pcs lily inside |
| Color: | White, Yellow, Pink, Could be customized to fit your needs |
| Weight(kg): | 0.071kg |
| Material: | PVC |
| MOQ: | 100pcs |
| About Sample: | A single sample could be sent out if you need it. The fee of the sample depends on couriers, and the product will be delivered with 3-5 working days by express delivery. |
| Advantage: | Factory-direct sales, The smallest MOQ, Cost-effective |
| Payment: | The payment could be done through T/T, Western Union, or PayPal. For bulk orders, the payment could be done with 30% paid in advance, and 70% before shipment. |
Features
This artificial lily is made of film, which has a simulated feel as the real flower and can be washed. It is easy to take care of without
being restricted by climate and geographical conditions. It is beautiful, environmentally friendly, delicate and realistic, and
durable.
How To Use Artificial Flowers For Decoration?
1. When using artificial flowers, pay attention to their placement. This is mainly for some locations where there is more sunlight. Real flowers like sunlight, but compared to artificial flowers, sunlight is not acceptable.
2. It is close to the heat source during use. This is mainly based on artificial flower material. As a plastic-based manufacturing product, it cannot withstand high temperatures, otherwise, it will easily deform the flower.
3. Try not to place artificial flowers in the kitchen. This is because the kitchen has a lot of oily smoke. If we place artificial flowers for a long time, they will be darkened by oily smoke. If this is the case, it is often difficult to clean, so just shorten The life span of the artificial flower.
4. When arranging artificial flowers, pay attention to the placement of artificial flowers. Not every kind of flower arrangement can be arbitrarily placed on artificial flowers. The wrong placement can easily end the artificial flower decoration career prematurely.